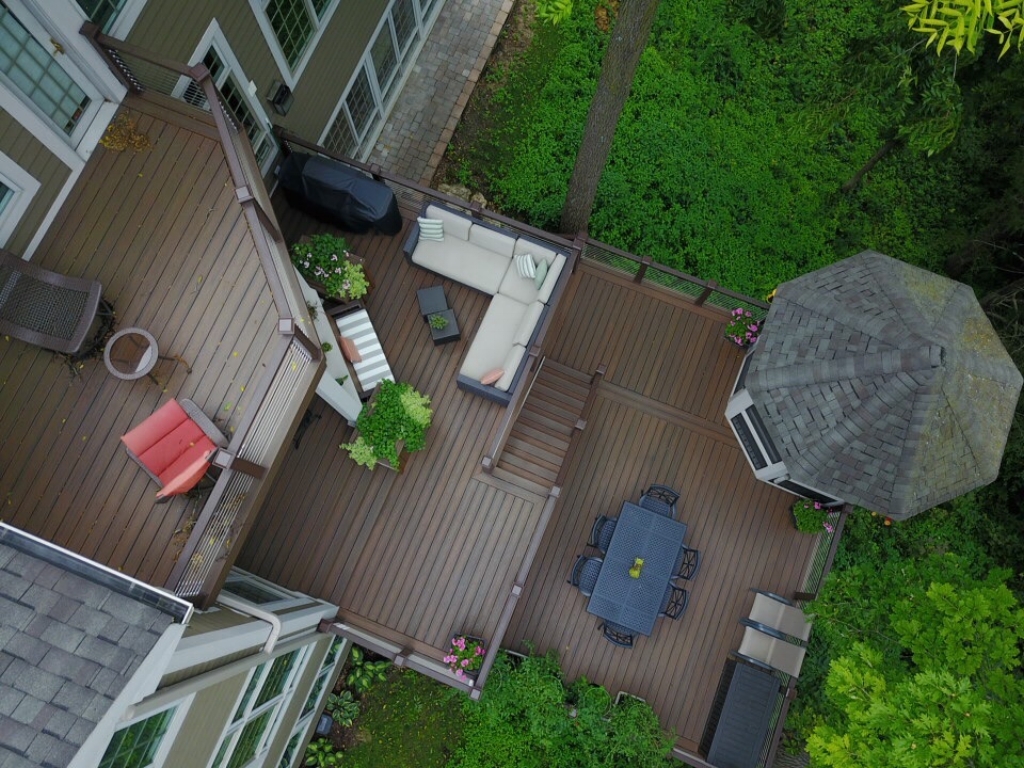 "We worked with Galena Hillside Homes on our new deck. Throughout all phases of work they surpassed our expectations. Initially, for the deck, we planned to just improve a small area off of the kitchen. When Nate and his crew began work, they quickly realized our deck was not able to support our plan due to structural issues. We went to plan B; redo the entire deck. We also had a deadline for a large party we were hosting. Nate assured us, while it would be down to the wire, they would be done. And they did it! The deck is amazing. It is a beautiful addition to our home that gives us...
In 1987 we bought a lot in the Territory and started dreaming about the home we would build someday. We entrusted that dream to Bill and Nate at Galena Hillside Homes. Working with a home plan designed by architect Marty Johnson they turned our dream into reality! Their years of experience, expert craftsmanship, and attention to detail meant that everything from the foundation to the rafters was built to the highest standards of quality. The professional, client friendly attitude of the entire team made the process exciting and fun. Thanks for making our dream come true!
"Galena Hillside Homes was the best choice we could have made for our home remodel. So professional yet friendly while doing quality work. They work as a team – from the construction to electric to plumbing and everything in between. Almost like having family in the house. I love the results. Best kitchen ever!"
"Galena Hillside Homes built our house in 1992, our garage and office in 2012, exterior deck in 2014, interior stairway remodeling in 2014, four bathrooms in 2016, miscellaneous siding and patio doors 2017. Twenty five years of excellent, durable, reliable improvements for our home by Hillside and its sphere of trade relationships. We trust Nathan and Galena Hillside Homes in every respect and unhesitatingly recommend them to anyone seeking quality work, done on time."
"Planning for our dream home began 8 years before the first shovel hit the ground. Over the years, we gathered many ideas from open houses, parade of homes, and home shows. Whenever we asked anyone who was the best builder in the area, everyone answered Galena Hillside Homes. We met with Bill Miller and were immediately impressed by their previous work, testimonials, and his availability and responsiveness to our questions. We all worked with...
"Just 2 months after our lake house was complete, we were called and told the unimaginable, there was an explosion! Our dreams of having a lake house were gone, just like that. We were all shaken up by this experience and weren't sure who to trust to rebuild. Until we met Bill and Nate...They were very comforting and most importantly, we trusted them! It wasn't an easy task to take on. Everything we did had to be approved by insurance. Nate was very patient with all the obstacles in rebuilding our home. We were very impressed by his cleanliness, work ethic, and overall craftsmanship. The good that came out of this terrible situation is that we couldn't be happier with the outcome of our home! It is beautiful!
Thank you Bill and Nate for making this process as easy as possible on us, we are so grateful that we found you!"
"We hired Galena Hillside Homes to completely gut renovate our newly purchased 100-year-old farm house in Elizabeth Illinois. It was quite an undertaking which Nate took on without hesitation. To say that we had a fantastic experience would be an understatement. Nate and his team were experienced, professional, flexible and mostly TALENTED. Galena Hillside Homes worked hard every single day to complete our project on time. The attention to detail was beyond what we could have expected. Every request we made was met with a "sure, no problem" attitude. As soon as we met Nate we knew we had chosen the right contractor to take our dream and make it a reality. I would recommend Galena Hillside Homes to anyone that may be looking for a trustworthy friend to complete their project because that is exactly what we found in Nate."